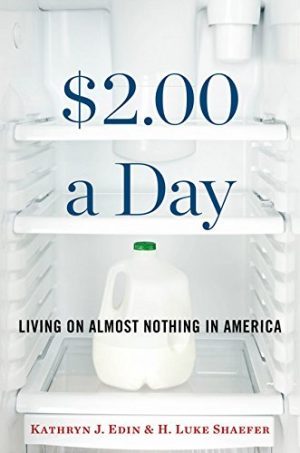 $2.00 a Day: Living on Almost Nothing in America
Published by:Houghton Mifflin Harcourt
on September 1st 2015
Genres:Non-fiction
Source: Library Book
Pages:210
Purchase:


Rating:
A revelatory account of poverty in America so deep that we, as a country, don't think it exists
Jessica Compton's family of four would have no cash income unless she donated plasma twice a week at her local donation center in Tennessee. Modonna Harris and her teenage daughter Brianna in Chicago often have no food but spoiled milk on weekends.
After two decades of brilliant research on American poverty, Kathryn Edin noticed something she hadn't seen since the mid-1990s — households surviving on virtually no income. Edin teamed with Luke Shaefer, an expert on calculating incomes of the poor, to discover that the number of American families living on $2.00 per person, per day, has skyrocketed to 1.5 million American households, including about 3 million children.
Where do these families live? How did they get so desperately poor? Edin has "turned sociology upside down" (Mother Jones) with her procurement of rich — and truthful — interviews. Through the book's many compelling profiles, moving and startling answers emerge.
The authors illuminate a troubling trend: a low-wage labor market that increasingly fails to deliver a living wage, and a growing but hidden landscape of survival strategies among America's extreme poor. More than a powerful exposé, $2.00 a Day delivers new evidence and new ideas to our national debate on income inequality.
$2.00 A Day is a non-fiction book about extreme poverty in America. It attempts to explain what causes an individual to be in such dire circumstances. It also highlights what they do to survive. It basically describes how some survive with no cash income.
Lately I've not been much of a non-fiction fiction reader. I just didn't seem to come across many non-fic books I'm interested in. '$2.00 a Day:Living On Almost Nothing in America', seemed to highlight an interesting subject so I thought I would give it a shot.
The main thrust of this book is that in the U.S., what we think of as 'traditional welfare', no longer exists. The federal government eliminated it in the mid-nineties during the Clinton administration. Currently families are only able to get cash from the government if they have minor children and jump through all the government hoops (such as keeping a job). It is also temporary, lasting only for a couple of years. The federal government gives the states money for the upkeep of the 'welfare' system. The states disperse it however they would like. This includes dividing the money into other programs and away from people.
The authors explain that food stamp and rent subsidies can be obtained by those in need. However, cash is given out very sparingly . This leaves many people with absolutely no cash for other necessities (clothing, laundry detergent, transportation etc.) '2.00 a Day' also explains that there are sections of the country were there are few jobs and little private support (such as food banks) for unskilled workers.
I had a variety of feelings for the people highlighted in this book. Many I sympathized with. (Such as Rae and her daughter.) Others not so much. Many of the people seemed to lack basic life,decision-making, and planning skills which I would have liked to see addressed.
The writing style had a disjoined type of flow that I found confusing. Many of the people background and circumstances were explained early in the book and then they were brought up again later. I had to go back in the book to refresh my memory on each's back story.
It was an eye-opening read for me and I did reap a lot of information from it. One of the important points that this book touches on is that welfare is in direct conflict with the American core value of self-sufficiency. This lack of aliment with American values is what led to past American welfare reform.
I do agree that '$2.00 A Day On Almost Nothing in America' approaches an important topic. The system is broken and it needs to be repaired. I'm just not sure that creating higher paying non-skilled jobs (as this book seems to suggest) is the answer.
Rating Breakdown
Writing
Pacing
Cover
Overall: