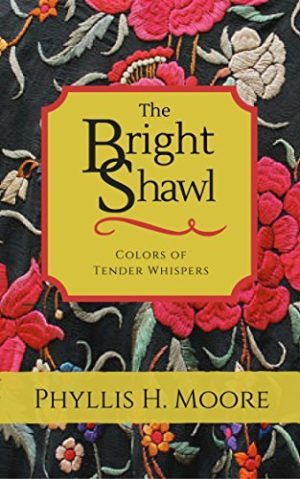 The Bright Shawl: Colors of Tender Whispers
by: Phyllis H. Moore
Published by:Del Corazon
on August 19, 2016
Format: PDF file
Pages:240
Purchase:


Rating:
Bella Rodriguez has decided it's time to leave her step-father's home. Her mother has been dead for three years and her older sister, Rosalinda, has disappeared. Bella fears she is next unless she makes a plan of her own. However, she struggles with what will happen to her younger brother, Manny.

While Bella plans a journey to a new life, Manny is left to face the unraveling of the only home he has ever known. Without Bella, his father's motives and instability is obvious. He is torn between the loyalty to his father and the dependability of his step-sister. The siblings experience whispers, guiding them to follow their instincts, but sometimes these messages are clouded in their own uncertainty. Will they cling to the known, or strike out and shape their own futures, and if they do, how will they ever know a family?

Bella encounters a self-proclaimed, distracted psychic, Gina, who introduces her to new possibilities, but is it too good to be true? Gina and her brother, Slade have been marking time, waiting for acceptance and the passage of grief to embrace a bold lifestyle in a new place. Will all their dreams and plans be woven together in a new tapestry of adventure, or will their lives unravel, leaving them floundering, struggling to redefine what the future might be?
I received this book for free from Author (via YA Books Central) in exchange for an honest review. This does not affect my opinion of the book or the content of my review.
Bella is terrified of her step-father. When her mother dies and her sister disappears, Bella knows she must plot her escape.
My Thoughts:
I am very conflicted about my feelings for this book. I decided to think on 'The Bright Shawl' for awhile before writing a review. I really enjoyed the story and it was a super quick read for me. The paranormal elements kind of threw me for a loop though and make the story somewhat hard to believe.
What I Loved:
I really liked the premise of the story. A girl struggling to escape her abusive, drug dealing step-father. The details of Bella's living conditions really drew me in. I could totally understand why she would want to get away from her step-father.
The prose of 'The Bright Shawl' was amazing. The author described everything is vivid detail. The characters are also well done. I also found the diversity of characters well done with Bella's family being hispanic. Slade was by far my favorite chapter. He seemed like someone I would love to have as a friend and a fun guy to be around.  I love their personalities but would have loved to have more of a back story to them and their family.
What Left Me Wanting More:
Gina and Bella become instant fiends. Right away Bella is taken in by Gina and her brother Slade.  After this everything in Bella's life seems to snap into place for her. Slade having a fashion line, Slade wanting to move. Bella and Slade  finding a perfect place for their store and it being for sale. I felt like all this was a little too convenient and even with Gina's hunches, it was all a little too much just clicking into place.
There was also a lot of confusion for me when Bella started using her sister's name. Sometimes she was called her own name and in some instances by her sister's name.
The paranormal elements of the story was subtle at first then because more intrusive. I could almost believe Gina's hunches but  Bella's mother and sister whispering to her into Bella's thoughts seemed pretty farfetched . This seemed out-of-place and didn't seem to add much to the story.
My Final Verdict
I really enjoyed 'The Bright Shawl'. It was a fund and quick read with an uplifting story. Definitely a story with a positive undertone.
Read this review at YA Books Central
Rating Breakdown
Plot
Characters
Writing
Pacing
Cover
Overall: