Here at 'The Book Return' blog we are excited to announce a new feature called 'Tiny Bird's Shelf'. 'Tiny Bird's Shelf' will exclusively feature children's picture books. My kids and I will read the stories together and let our readers know what we collectively think about the story.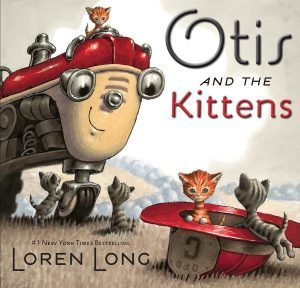 Otis and The Kittens

by: Loren Long


Published by:Philomel Books on September 20th 2016
Genres:Children's Book
Format: Hardcover
Source: Purchased
Pages:40
Purchase:


Rating:
The #1 bestselling creator of Otis and Little Tree presents an homage to firefighters everywhere—and to the many boys and girls who dream big of being heroes!

On the farm where Otis the tractor lives, it hasn't rained in a long time and farmers all over the valley have grown anxious with water in such short supply. One hot afternoon, when Otis and his friends are resting beneath the shade of the apple tree, Otis spots something moving down in the valley—an orange tabby cat headed straight for the old barn. But then Otis sees something else that causes his engine to sputter . . . a swirl of smoke coming from the same barn. A fire!

As Otis races toward the fire with his friends in tow, he spots the tabby cat mewing in alarm. Otis rushes inside to discover the source of the cat's worries--her little kittens are perched up on the hayloft, scared. Otis never hesitates. Yet even after he delivers a tractor full of kittens safely outside, their mama remains upset. Re-entering the burning barn, Otis discovers why: one tiny kitten, still too scared to move. With a friendly chuff, Otis coaxes her down and she scampers out the door. That's when the floor collapses with a CRASH, trapping the tractor. Now Otis, the friend everyone can count on, must count on his friends.

Told with a sense of play and devotion, this is a heartwarming tale that reminds readers that sometimes even those who we count on to help us need a little help themselves. From the creator of Otis, Otis and the Puppy, and the illustrator of The Little Engine That Could and Of Thee I Sing by President Barack Obama.
When I saw 'Otis and the Kittens' on Book Outlet I had to pick it up.
'The Otis' series features vibrant illustrations by Loren Long. Part of the magic of the 'Otis and the Kittens' is discovering all the fine details of the story displayed in the illustrations.
'Otis and the Kittens' features the important themes of safety, family, cooperation, and friendship. My son especially enjoyed the interactions between Otis, the kittens, and the firemen.
'Otis and the Kittens' offers a feel good story with wonderful illustrations. It features popular children's themes. I mean what's more awesome then farms, kittens, and fireman.