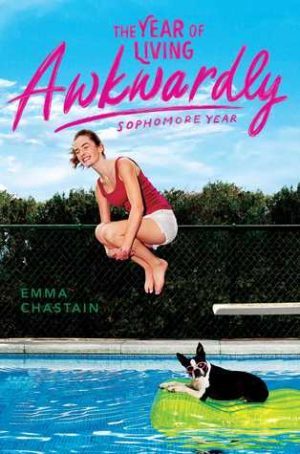 The Year of Living Awkwardly: Sophomore Year
Series: Chloe Snow's Diary
Also in this series:
Chloe Snow's Diary: Confessions of a High School Disaster
by: Emma Chastain

Published by:Simon Pulse
on July 10, 2018
Genres:Young Adult, Contemporary
Format: Mobi (Kindle file)
Source: Publisher
Pages:384
Purchase:


Rating:
High school student Chloe Snow chronicles another year in her life while she navigates the highs and lows of family, friendship, school, and love in her diary.

It's Chloe Snow's sophomore year of high school, and life has only grown more complicated.

Last year, Chloe was the star of the musical. This year, after an audition so disastrous she runs off the stage in tears, she's cast as a lowly member of the ensemble. Will she be able to make it through the show knowing everyone's either pitying her or reveling in her downfall?

Chloe's best friend, Hannah, is no help: she's been sucked into the orbit of Lex, the velvet-gloved, iron-fisted ruler of the sophomore class. Chloe's dad is busy falling in love with Miss Murphy, and Chloe is no longer speaking to her mother, who is sending her increasingly desperate and unhinged emails from Mexico. As her parents' divorce negotiations unravel, a custody battle looms.

If only Chloe could talk to Grady about it: his parents are divorced, and he's easy to talk to. Or he was, until he declared his love for Chloe, and she turned him down because despite all her rational brain cells she can't seem to get over Mac, and then Grady promptly started going out with Lex.

As the performance of the show approaches, Chloe must find a way to navigate all the messy elements of her life and make it through to the end of the year.
*I received this book for free from the Publisher in exchange for an honest review. This does not affect my opinion of the book or the content of my review.
"The point of the musical is that Nellie's racism is disgusting and that you can be a cute, fun girl everyone considers so nice and still have this snake coiled in your heart. "
"It's like Tris let go of his trapeze and he's falling through the air, waiting for Roy to catch him, but Roy is outside the circus tent making out with the lion tamer."
"It was a perfect fall afternoon. Cool air Lavender sky. Leaves the color of cherries. Smell of wood smoke. Sometimes New England is so New Englandly." 
Chloe Snow is a high school sophomore who is struggling with the abandonment of her mother. She also is absorbed in taking her PSA, school, boys and friends. She must keep it all together to make it through her sophomore year.
I really didn't know much about ' The Year of Living Awkwardly' going into it. It is book #2 in the Chloe Snow's Diary series. They synopsis made Chloe sound very angsty. As I read though the diary (the story is told in diary format) I realized Chloe is typical of how many teenagers truly are. I haven't been a teenager for a very long time but I remember being very emotional and every little thing was a big deal to me . Even though technology has made the world an entirely different place from when I grew up, the world of the teenager is still small and very self-absorbed. This is almost how it needs to be as they learn who they are and how to relate to the world around them. For example, Chloe thinks she is never going to meet anyone and is going to wind up as a spinster. This seems silly at first but this is exactly an example how teenagers feel.  Throughout the story Chloe often states that she knows she's privileged and self-centered but that she can't help feeling this way she does.
One of the most interesting things in 'The Year of Living Awkwardly' is Chloe's relationships to other characters in the story. I think her relationship with her parents is one that will resonate with a lot of people. Chloe struggles to not let her mother's abandonment and distant personality ruin her life. She also struggles with her father moving on from his ruined marriage and dating Chloe's english teacher. Chloe really grows as a person in relation to her dad's dating life. I also  loved how Chloe grew with respect to her other personal relationships. She learned what things were really important to her and that she deserved to be treated well.
I loved the characters, the agsty storyline, the diary format, and the easy to read prose. I loved learning so much about "South Pacific" (I showing my age here but I couldn't help thinking about 'Dirty Dancing'). This is just an all around fun read with an accurate portrayal of what it is like to be a teenager. I am going to read book #1, 'Confessions of a Teenage Disaster and I can't wait to find out in the next two books what happens in Chloe's Junior and Senior year.
Side note-Did anyone else notice that Chloe's frenemy's name is Lex in the synopsis but is Reese in the book?
July 3rd
July 4th
The Book Return– Review & Favorite Quotes

July 5th
We Live and Breathe Books– Review
Anky's Book Bubble– Q&A

July 6th
Bookmark Lit– Creative Option
Wishful Endings– Guest Post

July 7th
July 8th
The Lovely Books– Review
Never Too Many To Read– Creative Option

July 9th
Lost in Storyland– Review & Guest Post
Pink Polka Dot Books– Review

SaveSave
SaveSave
SaveSave
SaveSave
SaveSave
SaveSave
SaveSave
SaveSave
SaveSave