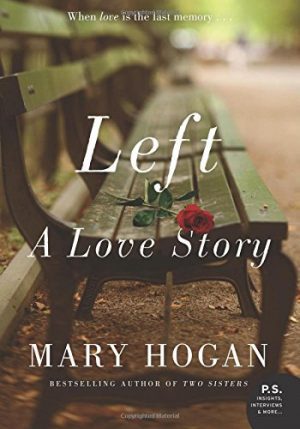 Left: A Love Story
by: Mary Hogan
Published by:William Morrow Paperbacks
on June 19, 2018
Genres:Contemporary Romance
Format: Trade Paperback
Source: Publisher
Pages:256
Purchase:


Rating:
In this beautifully crafted novel from the author of the critically-acclaimed Two Sisters, comes the story of a woman who retreats into a fantasy world on New York City's Upper West Side as she slowly loses her once whip-smart husband to dementia—perfect for fans of Still Alice.


When life falls apart, a little fantasy goes a long way…


It started as a dream vacation in Spain, with Fay and Paul Agarra enjoying all the delights of a European holiday. A respected New York City judge, Paul has always been the man Fay can rely on, no matter what. When he inexplicably disappears from a Barcelona street corner, Fay knows something is terribly wrong. Once reunited, Paul shrugs off the episode as a simple misunderstanding—but Fay suspects her almost perfect life has taken a dark and sudden turn.

Soon there are more signs that Paul is beginning to change. Bouts of forgetfulness lead to mistakes in the courtroom. Simple tasks cause unexplainable outbursts of anger. Fay's worst suspicions are realized when she learns her husband—her rock, her love, her everything—is succumbing to the ravages of dementia.

As her husband transforms before her very eyes, Fay copes with her fears by retreating into a fantasy life filled with promise instead of pain. In Fay's invented world, she imagines herself living a glamorous life free from heartache, with a handsome neighbor she barely knows rescuing her from a future she can't accept.

Poignant and beautifully crafted, Left is an unforgettable tale about life's aching uncertainties—and a woman who discovers that somewhere between hope and reality, an unexpected future will find its way forward.
*I received this book for free from the Publisher in exchange for an honest review. This does not affect my opinion of the book or the content of my review.
Fay Agarra has the perfect life. She lives in a New York City with her husband, respected New York judge, Paul Agarra. Fay's perfect life slowly begins crumbling when her 'go to guy' suffers an explainable episode on their dream vacation.
Where other books such as, ' Still Alice' gives us a look inside the mind of those suffering from dementia,' Left' gives us a view of what it is to be the care giver of a dementia sufferer. Alzheimer disease is one of the most heartbreaking disease to witness. Loved ones have to witness not only the physical demise but also the mental deterioration of a once sharp and vital person.
'Left' is told from Fay's point of view.  In heartbreaking detail we realize how she uses fantasy to cope with her life situation. While, at times, Fay does come across as self-absorbed and even selfish, I remind myself that this is Fay's story. 'Left' represents her inner thoughts and feelings and is an accurate example of how many caregivers feel.
An accurate portrayal of the caregivers feelings, emotions, and coping mechanisms is a vital part of this book.A book that idealizes the caregivers and love ones does little to support those who are actually going through similar situations. I really loved the relationship that Fay had with her dog, Lola. This story exemplifies how a pets love can give us love and support that we often can not get anywhere else.
'Some days were calm. Almost normal. Other days felt like I was living in the middle of an icy lake.'
An important part of the story is that Fay hadn't worked through her mother's death years earlier. It becomes apparent that a lot of what Fay is feeling about Paul's illness has to do with her mother's death from lung cancer.
Fay must also struggle with 'outing' Paul's mental decline, realizing this will end his career and could overturn convictions.
As a side note as a migraine sufferer myself I thought the author's description of migraine's is some of the best I've ever seen described.
'…the dark tentacles of a migraine wrapped themselves around a vein in my temple and squeezed. A sucker on the back of its pointed tips attached its self to the back of my eye and pulsed like a festering sore.'
I enjoyed this story immensely. The story is well constructed and the prose is beautiful. The story is even more impactful and heartbreaking when you find out the story is inspired by the author's own husbands battle with dementia. While some readers might find Fay's behavior and thoughts as problematic, I think this gives the reader a sense of what Fay is going though. 'Left: A Love Story' is definitely a must read for those that would like an inside look at a caregivers point of view on dementia.
I do want to point out that there is a small discrepancy in the story that put me off a little. Near the end of the book Fay says her father died when she was in high school, from a car accident. This contradicts earlier in the book when her father walks her down the aisle on her wedding day (after she graduated from college).
SaveSave
Rating Breakdown
Plot
Characters
Writing
Pacing
Cover
Overall: