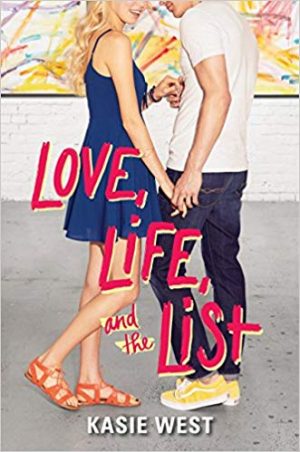 Love, Life, and the List
by: Kasie West

Published by:HarperTeen
on December 26, 2017
Format: ARC
Source: Publisher (via YA Books Central)
Pages:384
Purchase:


Rating:
Seventeen-year-old Abby Turner's summer isn't going the way she'd planned. She has a not-so-secret but definitely unrequited crush on her best friend, Cooper. She hasn't been able to manage her mother's growing issues with anxiety. And now she's been rejected from an art show because her work "has no heart." So when she gets another opportunity to show her paintings Abby isn't going to take any chances.

Which is where the list comes in.

Abby gives herself one month to do ten things, ranging from face a fear (#3) to learn a stranger's story (#5) to fall in love (#8). She knows that if she can complete the list she'll become the kind of artist she's always dreamed of being. But as the deadline approaches, Abby realizes that getting through the list isn't as straightforward as it seems… and that maybe—just maybe—she can't change her art if she isn't first willing to change herself.

This is the first in a set of three standalone books with crossover characters.
*I received this book for free from the Publisher (via YA Books Central) in exchange for an honest review. This does not affect my opinion of the book or the content of my review.
Abby's goal in life is to become a serious artist. Her hope is to get into a special art camp. To carry out this she must put more heart into her work so Abby makes herself a bucket list. Abby is also dealing with an agoraphobic mother, a deployed father, and a growing crush on her best friend Cooper.
I have read a couple of Kasie West novels and enjoyed them. They are generally fun, young, romantic, novels. I really enjoyed 'Lucky in Love', so I was really excited to read this one.
I did enjoy the storyline in general. I loved the idea of experiencing life in order to give yourself a wider perspective.  I just didn't connect with the characters. Maybe, I'm just too old or maybe I just don't get the California lifestyle thing. For me Abby and Cooper were both blah.  I just had no chemistry with Abby. She seemed more than a little bratty to me and Cooper came across as a typical, distant, self-obsessed teenage boy. I did have a  favorite character, and without a doubt, it is Abby's grandpa. He seemed really feisty and interesting and I felt like he could tell some interesting stories and add a different perspective if he was allowed to. Sadly, he wasn't.
I also found Cooper and Abby's romance to be boring. Cooper acted like a jerk to Abby throughout much of the story so I really didn't get why they were friends much less why Abby liked him.
I really didn't feel the Kasie West magic in this one. Like I said previously, I did enjoy the list part of the story but the romance and most of the characters just didn't do it for me. I plan to read Kasie's other books and look forward to finding some characters and a story that I can relate more towards.