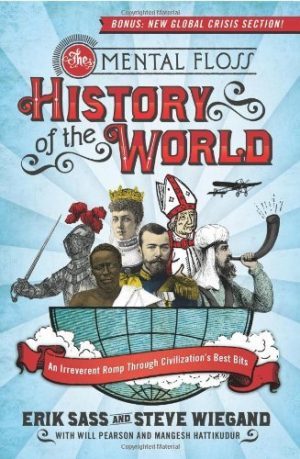 The Mental Floss History of the World: An Irreverent Romp Through Civilization's Best Bits
by: Steve Wiegand, Erik Sass

Published by:William Morrow Paperbacks
on October 27, 2009
Genres:Non-fiction
Format: Audio book
Source: Library Book
Pages:432
Purchase:


Rating:
"An irreverent romp through history's best bits," The Mental Floss History of the World is an amazingly entertaining joyride through 60,000 years of human civilization. As audacious as it is edifying, here is a hilarious and irreverent—yet always historically accurate—overview of the ascent (or descent) of humankind, courtesy of the same rebel geniuses who brought you Mental Floss presents Condensed Knowledge and Mental Floss Presents Forbidden Knowledge. Updated with all the hot topics and events of the past few years, The Mental Floss History of the World is proof positive that just because something's true doesn't mean it's boring.
This book is a humorous and abridged history of the world. I listened to this as an audiobook. The funny narration is a great way to get a quick rundown of important events in history. The narrator is quirky and does the tongue-in-cheek comments wonderfully.
As with any history compilation, what is included and what is omitted is subjective and this book left lots of important events out. I would have liked more coverage of important recent events such as the Civil War, the World Wars, the Internet Age, etc. These were very glossed over in the book. As with anything done by Mental Floss this is just a fun, quick, look at history and not really an academic read.