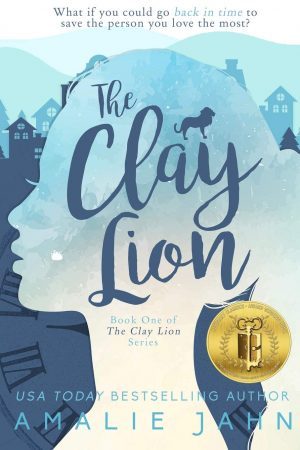 The Clay Lion (The Clay Lion, #1)
Series: The Clay Lion
Also in this series:
Tin Men
,
A Straw Man
by: Amalie Jahn

Published by:Bermlord
on March 11, 2013
Genres:Young Adult, Time Travel
Setting: Virginia
Format: Mobi (Kindle file)
Source: Author (via YA Books Central)
Pages:254
Purchase:


Rating:
What if you could go back in time to save the person you love the most?

The rules are simple. If you want to travel back in time, you need to be at least eighteen years old. You can only travel within your own lifespan for a maximum of six months. And above all else, you must never, ever, change the past.

But that's exactly what Brooke Wallace plans to do.

As Brooke faces existence without her beloved brother, his life cut short by a rare disease, she can think of only one solution - travel back in time to prevent his death. However, her attempts at fixing the past challenge her to confront everything she believes to be true about herself. And ultimately, she is forced to discover whether or not we can ever truly be in charge of our own destiny.
*I received this book for free from the Author (via YA Books Central) in exchange for an honest review. This does not affect my opinion of the book or the content of my review.
Brooke's brother has died a rather sudden death. In Brooke's world, she can go back in time only once.  Will she be able to save her brother? Will she be punished for breaking the rules of time travel?
I am a huge fan of time travel. I've been hearing about 'The Clay Lion' for some time now and I finally got a chance to read it.
The story takes place in what seems to be a mirror image of our universe but one where time travel takes place. The characters can't travel back and experience historical events. They can only travel back in their own lifetime. They only have six months before they need to travel back to the present day. This means that they are only reexperiencing events in their own lives.
Jahn really kept the story moving. I literally had a hard time stopping myself from reading the next page, then the next chapter. I just had to find out what happens with Brooke's travels next.
I love when there are paradoxes that blow my mind (think the origin of the watch in 'Somewhere in Time'). So I was super excited when I found them in  'The Clay Lion.'
There were a few tiny things that took a little getting used to for me. One is the information that is dumped at the beginning of the book. I feel like this happens a lot in time travel books as there is a need for the rules to be laid out so this is somewhat inevitable. I also kept wondering why the people in the past timelines (since they knew about time travel) didn't suspect Brooke was from the future. If I knew that time travel was possible and someone was acting strange, I would totally be suspicious that they were time traveling. However, I guess that they knew that one of the rules is that Brooke wouldn't be able to admit she was from the future.
I loved this story and jumped right into the rest of the series as soon as  I was finished with this one. Spoiler alert I loved the rest of the series just as much.
Read this review on YA Book Central
The Clay Lion is a Young Adult Time Travel Novel With Wonderful Characters #timetravel #theclaylion #amaliejahn
Click To Tweet