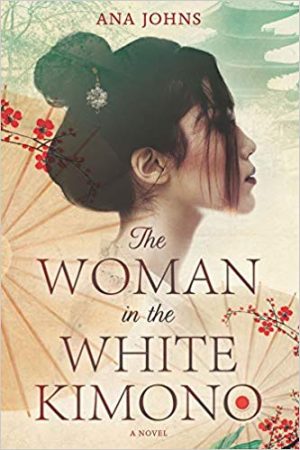 The Woman in the White Kimono
by: Ana Johns

Published by:Park Row
on May 28, 2019
Genres:Historical Fiction
Setting: Japan, Ohio, Detroit
Format: ARC
Source: Publisher
Pages:352
Purchase:


Rating:
Oceans and decades apart, two women are inextricably bound by the secrets between them.

Japan, 1957. Seventeen-year-old Naoko Nakamura's prearranged marriage to the son of her father's business associate would secure her family's status in their traditional Japanese community, but Naoko has fallen for another man—an American sailor, a gaijin—and to marry him would bring great shame upon her entire family. When it's learned Naoko carries the sailor's child, she's cast out in disgrace and forced to make unimaginable choices with consequences that will ripple across generations.

America, present day. Tori Kovac, caring for her dying father, finds a letter containing a shocking revelation—one that calls into question everything she understood about him, her family and herself. Setting out to learn the truth behind the letter, Tori's journey leads her halfway around the world to a remote seaside village in Japan, where she must confront the demons of the past to pave a way for redemption.

In breathtaking prose and inspired by true stories from a devastating and little-known era in Japanese and American history, The Woman in the White Kimono illuminates a searing portrait of one woman torn between her culture and her heart, and another woman on a journey to discover the true meaning of home.
*I received this book for free from the Publisher in exchange for an honest review. This does not affect my opinion of the book or the content of my review.
'In the struggle of stone and water, water eventually wins. Since my family's mind is set like stone, I must persist like water to change it.'
'To understand your direction, you must know both your roots and your reach.'
'To pick the correct one is fate. To pick the wrong one is also fate.'
Tori Kovac is on a mission to find out what happened to the woman her father fell in love within the 1950s. Naoko Nakamura is fighting her parents and their traditional Japanese ways to marry the man she loves.
I really love historical fiction. The dual timeline with a present-day perspective is by far my favorite. While there have been a ton of WWII historical fiction lately, they almost all center around the European war. The war in Japan was huge and had so many nuances. I really hope we see more novels about war and the post-war aftermath in the Pacific. 'The Woman in the White Kimono,' really brings out how many stories there are to tell about Japan during this time period.
While 'The Girl in the White Kimono,' takes place right after the occupation of Japan, the hostility of the war and the strain of Japanese and American relations can be felt throughout. Hajime and Naoko's story is one of the most heartbreaking I've read. Their story is one of the star-crossed lovers who love each other but can't be together because of circumstances out of their control.
One topic in this book is one of huge historical significance and not one I've ever heard discussed before. Namely the relationships between US servicemen and young Japanese women and how these couples (and their subsequent offspring) were treated by both Japan and America during and immediately after the War.
My only complaint in the book is that there are a few places where Tori knew elements of her father's story that she is never told in the dialog. I may have missed how she learned them but they seem to be inconsistencies.
  This book is amazing. The depth of heartbreak in this story is unbelievable. The insightful quotes alone are worth the read.  Definitely my favorite of the year so far. Something that should be read by everyone.
*A side note. I really appreciated that the National Records Center Fire was discussed.  Most WWI and WWII US Army and Airforce personal records from this time period were destroyed. This has lead to a big barrier to finding service history for those affected.
Wonderful Historical Fiction #Thewomaninthewhitekimono #Historicalfiction #Japan #postwwii
Click To Tweet