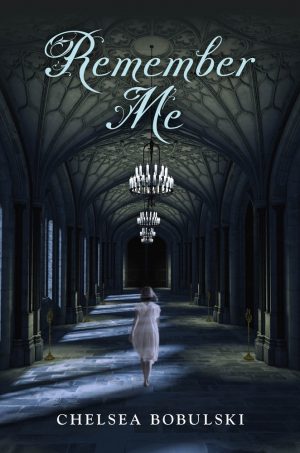 Remember Me
by: Chelsea Bobulski
on August 6, 2019
Genres:Horror
Setting: The Outer Banks, North Carolina
Format: Hardcover
Source: Publisher
Pages:256
Purchase:


Rating:
In this eerie and suspenseful YA, a teen girl discovers what connects her to the hotel she calls home as horrifying visions lead her to the truth.
Nell Martin is moving again, this time to the Winslow Grand Hotel, built in 1878. As Nell is settling in, strange things begin to happen. Doors lock of their own accord, writing appears on bathroom walls--and most horrifying of all--visions of a dead boy permeate her waking life. Thinking it was her mind playing tricks on her, she soon finds the past and the present colliding as she learns horrific details of a murder that happened at the hotel in 1905 involving a girl named Lea.
Nell and a mysterious bellboy must relive that day in hopes of finally breaking a curse that imprisons them both. And Nell discovers what truly links her to the history of the Winslow Grand Hotel.
*I received this book for free from the Publisher in exchange for an honest review. This does not affect my opinion of the book or the content of my review.
'First rule of storytelling,' he says, a glint in his eyes.' Everything is possible.'
Nell is still trying to recover from the loss of her mom when her dad moves her across the country. The move is for his new job in a historical hotel.
In 1907 Lea is being forced to marry a man she doesn't love to improve her family's circumstances.
I love me some historical fiction and some spooky stories. So when this novel was described as a cross between 'Titanic' and the 'Shining', I knew this story was for me.
The Winslow Hotel in this novel was a character in itself. It is so full of life and history while still being so very creepy. Having worked in the hotel industry I really loved some of the hotel lingo and inferences in the novel. This really made both Nell and Lea's hotel stay seem so real.
I liked Lea's perspective more than Nell's. I felt there was more of a mystery there and that her story was more thought out and interesting. I did notice that her story was very similar to Rose's from 'Titanic' though. Her story was nothing unique but it is one that I really loved.
I really liked Nell's character and that of her dad. I  felt for her and the loss of her mom and how that affected her life. I thought her story was different and yet similar to Lea's. I loved Alec. He was super swoon worthy and definitely a book boyfriend for me.
I found the story to be more of a love story and less of a horror story which is fine with me, just not what I expected. I did feel that the end was some what of a let down. The middle of the story kind of dragged then the end wrapped up really quickly and anticlimactically.
I would compare the story to both 'Titanic' and 'The 7 1/2 Deaths of Evelyn Hardcastle'.  It's definitely not something you read in YA often. 'Remember Me', was just the right amount of creepy and scary with a dash of history.
Young Adult Horror #lovetobescared #horroryahistoricalfiction #chelseabobulski #newrelease Click To Tweet