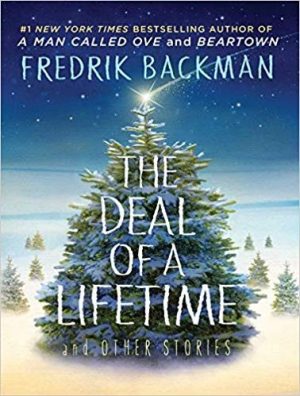 The Deal of a Lifetime
by: Fredrik Backman

Published by:Atria Books
on October 31, 2017
Genres:Contemporary
Setting: Helsingborg, Sweden
Format: Hardcover
Source: Purchased
Pages:65
Purchase:


Rating:
In this short story enhanced with beautiful illustrations, the bestselling author of A Man Called Ove and Beartown delivers an insightful and poignant tale about finding out what is truly important in life.
A father and a son are seeing each other for the first time in years. The father has a story to share before it's too late. He tells his son about a courageous little girl lying in a hospital bed a few miles away. She's a smart kid—smart enough to know that she won't beat cancer by drawing with crayons all day, but it seems to make the adults happy, so she keeps doing it.
As he talks about this plucky little girl, the father also reveals more about himself: his triumphs in business, his failures as a parent, his past regrets, his hopes for the future.
Now, on a cold winter's night, the father has been given an unexpected chance to do something remarkable that could change the destiny of a little girl he hardly knows. But before he can make the deal of a lifetime, he must find out what his own life has actually been worth, and only his son can reveal that answer.
With humor and compassion, Fredrik Backman's The Deal of a Lifetime reminds us that life is a fleeting gift, and our legacy rests in how we share that gift with others.
You'll be waking up soon, it's Christmas Eve in Helsingborg, and I've killed a person.
An absentee father who is more worried about making lots of money than raising his son seeks to explain his actions. It includes a Backman style twist at the end.
Fredrik Backman writes some of my favorites characters (Ove, Britt-Marie, Elsa's grandmother). So, I was hoping for some fun and quirky characters in this short Christmas novella. I quickly found out that this was not the case. It is a story about morality and it is meant to get you thinking about what is important in life.
While not my favorite Backman book it will definitely was worth reading. At well under 100 pages, it is also a quick read. Well worth giving an hour or so of your reading time.
Rating Report
Plot
Characters
Writing
Pacing
Cover
Overall:
Another great read from Fredik Backman #FredrikBackman #Thedealofalifetime Click To Tweet